Control Your Financial Future
Manage your money like a pro with minimal effort.
Manage your expenses and plan ahead by forecasting your account balance.
Simpler, yet more powerful than traditional budgeting techniques.

Cash Flow Forecasting
In the end, your account balance is what matters. Watch how spending today affects your balance in the future. If you don't see red, you are good to go!

A More Natural Approach
Monthly budgeting is hard to stick to. Our weekly projection approach makes it easier for you to organize. Each week you focus only on what is due.

Never Pay Late Again
Receive email reminders every Sunday, of what is due each week. Get on-the-day reminders for bills that you still forgot to pay.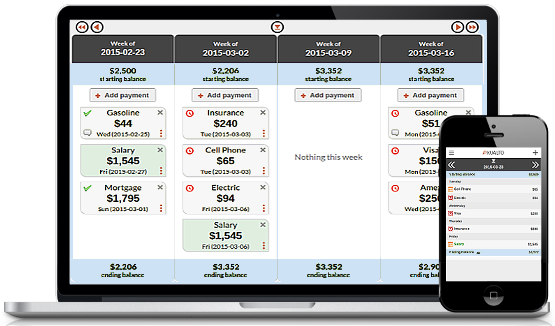 How it Works
You enter your starting account balance
You enter your income/expenses and how often they occur (e.g., bi-weekly)
Watch what happens to your account balance weeks or months in advance
Make decisions and plan ahead based on your expected balance
Easily make changes to your estimates as you go along
Get reminders of what is due so you never pay late again