Forecast Budgeting
A Less Restrictive Way to Manage Your Expenses
For Those Who Are Good With Money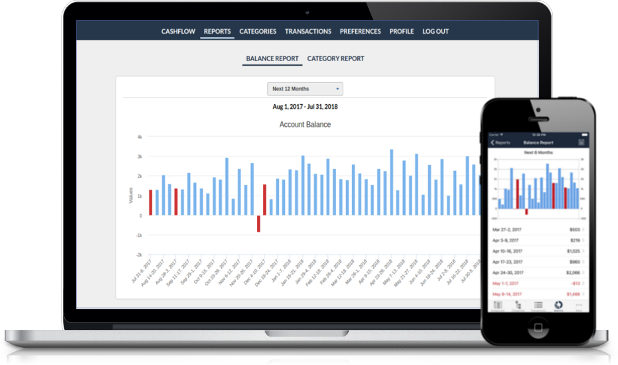 Here's What's Missing In Most Budgeting Tools

Traditional Budgeting
You spent too much eating out last month! That's what traditional budgeting tools may tell you. But what does that really mean? How will that "over-spending" affect the vacation in the Caribbean you hope to take 8 months from now?
Regular budgeting applications let you allocate your money to different categories but they focus only on the past and the present.
With this traditional approach, we end up creating artificial restrictions on our spending that cause many to hate budgeting.

Kualto Cash Flow Forecasting
Rather than place artificial limits on your spending, the kualto approach is much more relaxed in that it focuses on what really matters: your future account balance.
Not only is this a less restrictive way to manage your expenses, but it is also more natural and in sync with reality.
Know what's due and what your balance will be on any given week up to 3 years in advance. This way you'll know what you really can afford and how your future is affected by your spending in the present.
More Reasons to Try Kualto

Never Forget to Pay a Bill Again
Get due dates off the back of your mind. Our bill reminder assistant will let you know when bills are due so you can avoid late fees and free up your mind for more important things.

Automatic Syncing Across Devices
Manage your expenses from wherever you are. With our easy-to-use iPhone app, mobile and desktop website, you can access your data from anywhere, whether you are on your phone waiting at the doctor's office or on your couch with your laptop paying your bills.

No Connecting To Your Bank
We're big believers in having to manually enter your own transactions. We feel that importing transactions from your bank that have already happened, would defeat the purpose of being responsible by tracking your own spending.
If what you need is a tool to tell you what you've already spent money on, Kualto isn't for you.

Predict Negative Balances
Avoid overdraft fees by predicting negative balances months in advance with our Balance Report. Because when it comes to managing your expenses, the less surprises the better.
Tracking your future balance puts you in a better position to know how much you can really afford to spend, and of course, how much you can save.

Know Where Your Money Goes
Curious about how much you will spend on gas in the next 12 months? How it compares to what you spent last year, and what percentage of your overall spending goes towards it? Use our category spending report to answer those questions.

Realistic And Flexible
Do you get paid monthly? Or do monthly groceries? Why then do other tools force you to budget on a monthly basis?
With Kualto you get a weekly view of your finances. We feel this is more natural and gives you more flexibility.
What Users Are Saying On The App Store
"Better than YNAB!"

"Great app that shows you your cash flow forecast: syncs with the web app as well. Love how I can see with one glance when things are due and how much money we have at any given point in time. Kudos for the email reminders for upcoming bills and transactions."
by kidsndog - May 7, 2017
"Does just what I needed!"

"I finally found a personal budgeting app I actually get that looks into my future account balances. It's been hard to find one that makes sense and has this feature. I use this to reconcile and keep track of what's going on in my checking account as far as money going in and coming out with bills, etc. the bill reminder feature has been a life saver!"
by Selihl - Mar 20, 2017
"Super handy app"

"This really makes you feel like your in control of your spending, instead of just looking back at all the screw ups you had the month before and trying to fix it while dealing with the backlash of problems. It takes the guess work out of looking ahead for people who just want to focus on here and now. Im super laid back which can some times come back to bite me. But this makes up for my lack of prep 10 fold."
by Polar11813 - Mar 23, 2017
No credit card required for the 30-day trial
Monthly Plan
$4.99/mo
This pay-as-you-go option comes out to just 17 cents per day
Annual Plan
$47.88/yr
This option comes out to $3.99/mo or 13 cents per day
It takes just a minute to see if you like it