3 Reasons Why Budgeting Sucks
It is said that about 70% of lottery jackpot winners lose everything within two or three years and yet the vast majority of those with money problems are under the false impression that what they need to fix those problems, is more money.
The truth of course, is that if you don't know how to manage the money you have, getting more is only going to result in you wasting more of it.
Everyone understands this and yet most people don't have a system for managing the money they make.
I think part of the reason is that traditional budgeting just sucks.
It's not flexible or realistic

. It forces you to create a neat little plan that rarely works out as written. Why does it rarely work? Because life isn't neat or predictable.

It makes you feel guilty

. When things don't go as planned–which is inevitable–you feel like crap for failing at budgeting. Oh well, better luck next month!

It makes you feel poor

. For those of us who don't like to feel so restricted, traditional budgeting can be painful.
This article and the accompanying spreadsheet, will provide you with an alternative way to manage your expenses that isn't painful.
It will show you an approach to budgeting that is flexible, realistic, fun, effective, and that doesn't require you to become a boring, miserable penny pincher.
Be Smart, Not Cheap
Many equate budgeting to being cheap and restricting yourself to the point of misery. That's not the kind of money management I advocate. I'm not here to tell you to stop buying lattes, and start cutting your own hair to save a buck.
I mean, what's the point of making money if you can't enjoy it?
By all means, be cheap if that's what you wanna be. What I'm here to tell you is that you don't have to be cheap in order to manage your expenses effectively.
I love going out to eat with family and friends, going on vacations, and driving relatively nice cars as long as I can truly afford them.
While doing some research I ran across an article from a personal finance blogger who celebrated the success of his blog by purchasing a Lexus for himself. Posting this news on his blog resulted in his biggest drop in subscribers ever.
Apparently some of his readers felt it a sin for him to spend money on a car that fulfills other purposes other than transportation. How ridiculous.
You work hard. There's nothing wrong with spending money on what you want as long as you are doing it responsibly.
I've known many people who earn good money yet act as if they're poor. I've also known many who earn good money and are poor due to poor money management.
When you start to be more efficient with your spending, you may realize you actually make more money than you thought.
Balance is Key
You don't have to live miserably but you do have to know where your money's going. There's no way around that.
If you don't have a system in place to know what you really can and can't afford, you're going to bleed money even as your income increases. Just ask Nicolas Cage and all the other celebrities that have gone bankrupt after squandering millions.
It seems to me that most people either fall into the ridiculously frugal category or the ridiculously irresponsible one. It's a rare sight, people that are able to find the right balance between living responsibly and living miserably.
It is in this middle where I believe happiness–and sanity, lie.
How Traditional Budgeting Works
For years my wife and I used different systems for money management. She had her spreadsheet. I had mine. Mine used the more conventional Envelope approach, while hers used what we now refer to as the Forecast Budgeting approach.
For years she tried to convince me to switch to her method, and for years I resisted. One day, after arguing for the twentieth time about whose budgeting method was superior, I agreed to give Forecast Budgeting a try.
It was then that I realized that the envelope method I had been using for as long as I had been earning  income, was missing some key features.
Envelope Budgeting
Traditional budgeting, or the Envelope system as some call it, is simple. You start by breaking your expenses down into categories, and allocating a certain amount of money per month, to each. Here's an example…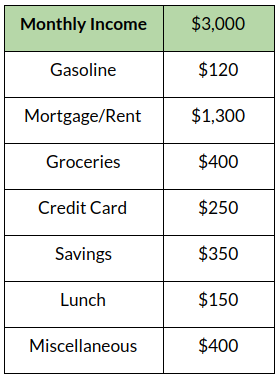 Sometimes you'll see an extra column for the "actual" amount that you ended up spending on the category for the month. This is used to see how well you were able to stick to your plan.
As you spend money on each category, you update the amount you've spent so far in order to keep track of how much you have left to spend for the month.
If for example, there are 7 days left in the month and you've already run out of money in your Lunch category, you would need to start bringing lunch to work until the following month.
If you end the month with leftover money in a category, you can decide to either save it or roll it over to the next month.
As I mentioned earlier, there are problems with this approach. While it did "work" for me for many years, it wasn't until my wife introduced me to Forecast Budgeting that it became obvious to me what those problems were.
Envelope budgeting is not a bad way to introduce some discipline into your spending, but as I said before, in practice, this system is not flexible enough.  This causes many to just give up , thinking budgeting just isn't for them.
What Makes a Budgeting System Good?
For a budgeting system to be effective, easy to stick to, and even fun, I believe it must have 3 essential features.
A Hands-On Approach
Budgeting software that connects to your bank account and periodically shows you what you've already spent money on, is close to useless! To take control of your spending you have to be active in the monitoring of that spending. You have to be hands-on.
I haven't had an Uno deep dish pizza in over ten years. I used to eat them for lunch all the time until I made the "mistake" one day of looking up the calorie content. It's almost the amount of calories I burn in an entire day!
This meant all those calories I ate for breakfast and the ones I would consume later for dinner were all extra. Once I became aware of this, the decision to order the pizza became so hard that I still haven't found the courage to order it ten years later.
Becoming more conscious of what you're spending your money on is the first step to managing your money successfully because it will help you get a clearer picture of where your problems lie.
While the Envelope system does require this hands-on approach, it lacks the two other essential features that I think are required to make a budgeting method easy to stick to.
Handling The Unexpected
In the real world, things happen all the time that don't fit neatly into your budget. If you use the Envelope budgeting system and you just found out your car needs the brakes replaced and that it's going to cost you $400 that you didn't plan on spending, you just broke your neatly put together "monthly plan." It sucks when that happens.
Yes, you can deal with this by having some "emergency" category that you always allocate money to, but how much should be in this category at any one time? You're still just guessing.
I believe a good budgeting system shouldn't "break" when something unexpected happens, because life is full of things unexpected. If your budget works only in the most optimistic scenarios, you may want to consider a different approach.
Connecting The Present To The Future
To those of us who naturally enjoy planning, organizing, and breaking things down into lists, the act of budgeting may be rewarding in itself. To others however, budgeting seems more like a chore.
The reason for this, I think, is that with traditional budgeting it's hard to connect the dots from your budgeting to the future rewards or consequences that result.
How will that extra $400 you were forced to spend actually affect the vacation you plan to take six months from now? Envelope budgeting can't help you answer that.
With Forecast Budgeting, you get to see how your spending decisions today will affect your account balance in the future. This is what makes Forecast Budgeting fun.
Author Alan Lakein said that "planning is bringing the future into the present so that you can do something about it now."
That's what Forecast Budgeting will help you with…
How Forecast Budgeting Works
So what is Forecast Budgeting? It's a simple system for managing your personal expenses where you track the ins and outs of your checking account,  forecast your weekly account balance, and make spending decisions based on what that future account balance looks like.
With Forecast Budgeting, rather than budget a month at a time, you are instead using a spreadsheet or software to watch your future weekly account balance.  This will help you make sure your balance  doesn't go negative with each of your current spending decisions.
One could even argue that Forecast Budgeting isn't "budgeting" at all, which I think many would agree, is a positive feature of this method.
With the forecast approach, you're not really restricting your spending on a per category basis as you would with the Envelope budgeting method. As long as your balance isn't going negative in the future, you are good to go with any expenses you want to make.
Below is an example of the forecast budgeting spreadsheet I'm going to give you: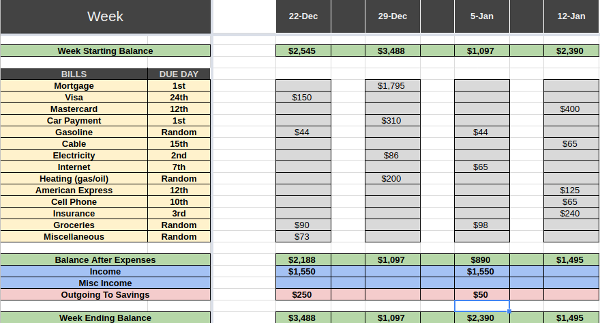 In the example above, only 4 weeks are displayed. The real spreadsheet has enough weeks to cover over a year of expenses.
You first start by entering the current balance of your checking account. That balance gets carried over every week and is adjusted based on any expenses and income that you enter.
If you know how much you'll owe for your mortgage or rent every month, you would enter all those transactions a year in advance so you can see how your bank account balance will fluctuate throughout the year.
You would do the same for all of your recurring expenses and any one-off expenses that you already know you will be making in the future.
If you already know that in four months you are going to spend $2,000 on a vacation, you can go forward in the spreadsheet and enter that amount under that future week.
Kualto.com, a web service and app that I created, can help you manage your expenses using this Forecast Budgeting method so that you don't have to re-enter transactions that repeat all the time. More on Kualto.com and the Kualto app, later.
The idea is that when you enter an expense today, whether it be in the current week or for some week in the future, you can go forward and look at what kind of impact that expense you just entered will have on your future account balance.
As long as your future account balance looks positive, you know you can afford that expense you just entered.
Another cool thing about the Forecast Budgeting method  is that once you've set it up, you can go forward and see what bills will be due on any week in the future. This can serve as a bill reminder, something Kualto.com also does for you automatically by sending you emails.
So what's the big deal? What's so great about this method and how is it better than the more traditional approaches to budgeting?
How Forecast Budgeting Will Motivate You
Remember what I said earlier about the ideal budgeting system being one that can help you connect the present with the future? Forecast Budgeting allows you to see, not only the future consequences of your current and planned spending, but also your future rewards.
You'll know what your account balance will look like at the end of year if you stick to your plan.
Why is this important? Because when you can see the future consequences and rewards of your current behavior, it becomes a lot easier to change the bad behavior and reinforce the good.
The Forecast Budgeting approach has, inherent in it, a motivational factor that helps you become better at managing your money.
Flexible. Natural. Realistic.
Do you get paid monthly? Do you do monthly groceries?
Most of us get paid on a semi-monthly or bi-weekly basis, we may do groceries once a week, and have random one-off expenses here and there. So why do most people find it acceptable to budget on a monthly basis?
It's not very natural. Forecast Budgeting is more in sync with how we actually spend our money in the real world because it breaks your expenses down into weeks, not months.
With traditional budgeting, you're creating a plan for your current month, and we all know that life rarely cares about our plans.
The difference may be subtle, but with Forecast Budgeting you're not creating a plan as much as you are documenting reality, and estimating the future as best as you can with the information you have.
When you spend, you document it by entering that transaction into the system. Then you can see the impact that transaction will have on your future.
If you want to see if you can afford to buy something, you can enter the transaction just to see what would happen to your future balance. This can help you determine whether it's a good idea or not.
This makes managing your expenses much simpler, more realistic, and more 'big picture.'
Isn't your account balance what really matters when it comes to managing your expenses? Is it not easier to keep track of one balance and make sure it doesn't go negative, than to have to watch fifteen different category amounts that you have to try to stick to?
Liberating!
With Envelope budgeting you can end up feeling bad about yourself when you overspend on a particular category. Some may say that's the whole point of disciplining yourself, but things in life are not always so clear-cut.
Sometimes you have to spend more on something than you originally thought, and that's okay.
Forecast Budgeting is all about doing your best to estimate what reality will be, while realizing that things can, and do change constantly.
Present Budgeting vs Future Budgeting
Some people are completely against forecasting as a money management strategy. They don't think you should look at the future at all, and that you should just focus on the money you got this month, and try to stick to the category limits you have set for yourself.
They think it's dangerous to even think about the money you expect to get in the future because there are too many unknowns. I disagree.
Yes, of course there are many unknowns in life, and that's precisely why budgeting only in the present sucks. You don't know what will happen tomorrow. Next week you may be forced to overspend on something.
With Forecast Budgeting as long as that overspending doesn't result in your future account balance going negative, it's okay. You don't have to feel guilty. Just manage your balance!
How to Save With Forecast Budgeting
With the forecasting method, you are managing the ins and outs of your checking account. One of those "outs" should be to your savings account.
So one of your expense categories should be "Savings" as this is considered an expense from the point of view of your checking account.
If you want to see if you can save $300 per month for the next twelve months, you can enter all of these transactions in your spreadsheet under the appropriate future weeks, and then see what your balance would look like throughout the year.
With Kualto.com, you would only have to enter this transaction once as a repeating transaction, and Kualto takes care of adding each individual instance under the proper dates.
The Forecast Budgeting Spreadsheet
To get the spreadsheet, sign up for our newsletter here. Once you confirm your email, you will get a link to download both the spreadsheet and the PDF version of this article.
The spreadsheet has two sheets. The first one contains the instructions.
But a much easier approach to try the Forecast Budgeting method is to sign up for a free 30-day trial at Kualto.com.
The website and app will handle many things for you automatically so you don't have to manually enter and update your repeating bills.
It also has other features like bill reminders and reporting that I will cover in the next section.
Forecast Budgeting On Steroids
Shortly after seeing the power of Forecast Budgeting, I went ahead and turned my wife's spreadsheet into software so we wouldn't have to manage things manually.
The software addresses all of the limitations faced when using spreadsheets, and adds some amazing features!
When you first sign up for your free 30-day trial at kualto.com, you'll get asked to enter the current balance of your checking account.
After that, go ahead and enter all of your repeating bills  and your income. You will then be able to see what will be due and what your balance will be on any week up to 3 years in advance!
You also want to add any one-time transactions you foresee happening in the future.
Transaction Status
A transaction can have one of 3 statuses: Due, Scheduled or Cleared. New transactions, by default, start out with a Due status. When you schedule a payment online, for example, or send a check in the mail, you would change the status of the transaction to Scheduled so you know you've already dealt with the payment.
Once you see that the money has left your bank account (or has been deposited in the case of income transactions), you need to change the status of the transaction to Cleared.
Balance vs. Cleared Balance
Changing the status of transactions to Cleared is important because this is what allows you to reconcile your Kualto balance with your bank balance.
The cleared balance takes into consideration only those transactions that have the Cleared status. This is the balance that should match your bank account.
To see your cleared balance you would hover over any week's ending balance on the website, or touch the ending balance if you are using our mobile version.
Never Forget to Pay a Bill Again
Another reason to make sure to keep your transaction statuses up to date, is our bill reminder.
By default, Kualto sends you reminder emails so you never forget to pay your bills, but it will only send you emails about transactions that have a Due status.
Easily Predict Overdrafts
With Kualto's Balance Report you can easily see if your balance is expected to go negative at any point up to 3 years in advance.
This will help you do a better job at planning and fixing any issues before they happen.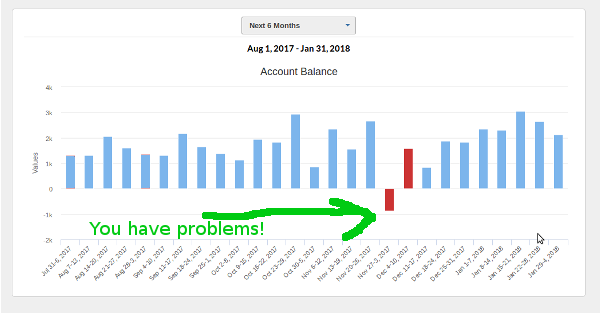 A positive red bar means your account balance will go negative at some point during the week, but it will end positive. A negative red bar means your account balance will end negative for the week.
As I mentioned before, this balance report has a motivational factor because it allows you to see what your balance could look like at the end of the year, for example, if you stick to your spending plans.
Now of course, your checking account balance shouldn't just go up and up all the time, as you should be transferring money into your savings account periodically.
Know Where Your Money Goes
Kualto's Category Report will show you how much you've spent or plan to spend in each of your categories, and the percentage of your overall spending for each.
This makes it easy to pinpoint any issues you may have with over-spending.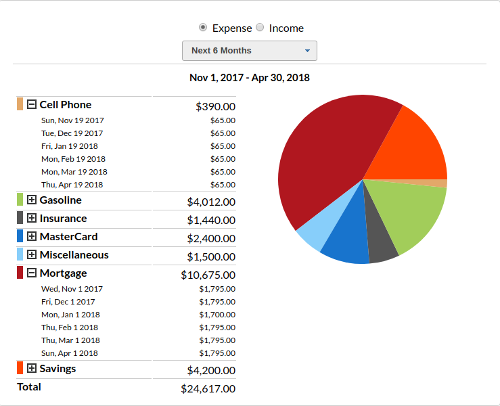 Try It For a Month
It won't cost you anything to see how Kualto can help you take control and become more organized with your money.
Try Kualto.com for a month and see the power of Forecast Budgeting. Managing your money doesn't have to suck.
Forecast Budgeting is the most realistic and flexible solution for managing your expenses.
You don't have to depend on creating overly optimistic budgets. Just focus on the big picture. Focus on your balance.